UNFPA: Delivering a world where every pregnancy is wanted,
every childbirth is safe and every young person's potential fulfilled.
25 August 2016
Keep Girls In School And Unlock Their Power To Become Economic Assets Says UNFPA
Naja'atu Idress is 15 years old. After graduating from primary school at age 10, she hawked for three years to support her parents with a daily stipend. At age 13 a suitor was handpicked for her and she would have been a bride but for the intervention of the Adolescent Girls Initiative (AGI). AGI is the United Nations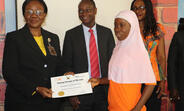 27 July 2016
120 Out Of School Girls Liberated From The Slums
"Eyin o lori re da (where are the fortunate people)? Awa re O (we are here)" was the greeting resonating throughout the graduation ceremony of 120 out of school girls in Ilaje community, Lagos State. The girls were beneficiaries of the AHI/UNFPA supported project "Expanding Access of Slum Dwelling Out-of-School Girls to
20 May 2016
The Horror Of Fistula And A Survivor's Tale
I met Zainab Baubau, a 32-year-old fistula patient twenty years after her failed marriage to Mohammed, and 19 years after the death of her son, an infant she lost during childbirth. At the age of 12, she developed obstetrics fistula and has lived with it for many years until today. She is one of the 6412 women and girls who
UNFPA Nigeria Humanitarian Response
Situation report of UNFPA humanitarian interventions in Nigeria
Northern Nigeria has the highest rates of female iliteracy in the country, and accounts...