The Honourable Commissioner, Ministry of Cooperation Cross River State (MIDC) Dr. Inyang Asibong with UNFPA Deputy Regional Director and OIC UNFPA Nigeria, Dr Mamadou Kante met at the UNFPA Office in the UN Building today on January 22.
The Hon Commissioner Ministry of International Development Cooperation Cross River State Dr. Inyang Asibong was accompanied by Ambassador Nkoyo Toyo, Lead Technical Adviser to the State Governor on Green Economy and, Mr William Ukpong, CRS Liaison Officer to Abuja
The DRD team comprises of the UNFPA Assistant Representative, the RH Specialist, CRSSO and the National FP/RHCS Specialist
Venue: UNFPA Office UN House
 Purpose of the meeting
 To familiarize the new Commissioner with UNFPA mandate and UNFPA role as the lead agency for DaO in Cross River State.

 To hold consultations with the Representative on the support to the Government on specific areas of UN programmatic support

 To strengthen partnership between the UN and the State Government Topics 
The topics covered during the visit included the strengthening of leadership, commitment and ownership by the Government of the UN DaO (participating agenciesUNFPA (lead), WHO, UNICEF, UNAIDS, UNODC, FAO, UNHCR, UNESCO, UNIDO); Family Planning commodities stock out in Health Facilities and their Last Mile distribution; request for the relocation of the UN House in Cross River to a more permanent location or, permanent solution to the rent issue of UNFPA office ;and a request for Government Counterpart Cash Contribution for all UN agency programmes in the state to enable scale-up of successful interventions
UNFPA's intervention in the state are;
UNFPA Programme in Cross River focuses on: i) Family Planning/Maternal Health & Rights; Fistula, ii) Gender Response programming, including in humanitarian settings and iii) Data Quality assurance.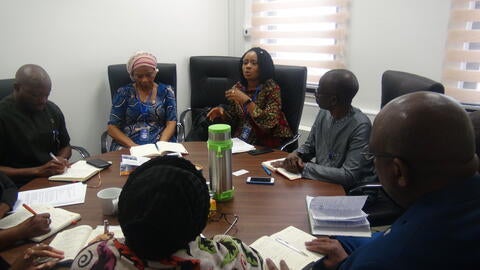 The EU-UN Spotlight Initiative is also being implemented in Cross River state and MIDC and State Ministry of Women Affairs play a key leading role in coordination with various stakeholders at the commencement of the implementation of the United Nations.
As part of the Development Assistance Programme (UNDAP) commenced in January 2014 and sequel to widespread consultations, Cross River State in Nigeria emerged as one of the 13 focal states selected by the United Nations Country Team (UNCT) to implement a Delivering as One (DaO) modality of development assistance.
UNFPA is the lead UN Agency for the Coordination of the DaO platform in Cross River State through its Sub-office based in Calabar. Its role is to coordinate UN Development Assistance to Cross River State in close collaboration with the UN Resident Coordinator's Office, UN agencies operating in Cross River State (WHO, UNICEF, UNESCO, UNAIDS, UNHCR, FAO,UNDP) and the relevant State Ministries Departments and Agencies (MDAs).
The Cross River State Ministry of |International Development Cooperation (MIDC), refer to mandate attached) is the coordinating ministry for UN and Development partners in the State. Other key State partners in the State include; State Ministry of Health, Ministry of Sustainable Development, Ministry of Women Affairs, Ministry of Youth, and the State Primary Health Care Agency.