On Mentrual Health Day (month), UNFPA Nigeria celebrated many events across the country. The theme of this year was "To create a world where no woman or girl is held back because they menstruate by 2030.", and many of the issues tackled were about normalizing menstruation, especially among youth.
In Borno State, a state suffering a humanitarian crisis,  accessing periods products can be challenging for women and girls. UNFPA team visited G.R.A. Model School Maiduguri and educated both the adolescent girls and boys with dignity enhancing sensitization on menstrual health and hygiene management, emphasizing the roles of the school management, the boys and the support of the volunteer club, especially in maintaining water, sanitation and hygiene. The UNFPA team also distributed Menstrual kits to 120 school girls and 7 boys.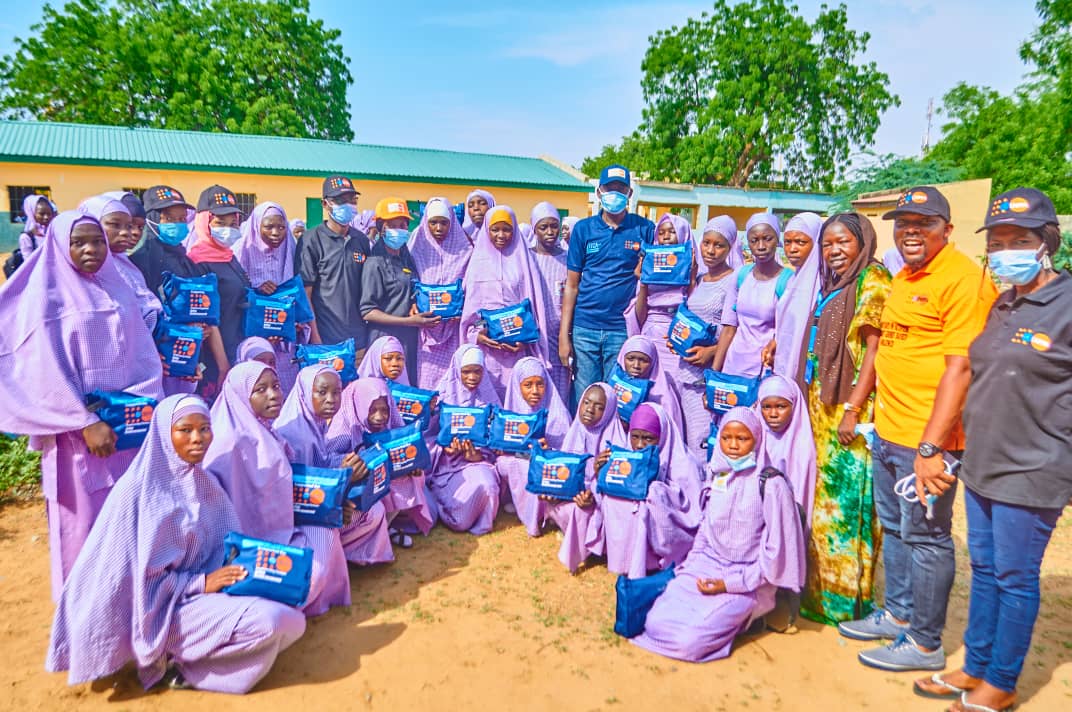 Halima was one of the girls who received a menstrual kit. She lives with her parents and siblings as the only girl child in the family. She usually goes through severe discomfort every month due to her menstruation. The pain is such that it makes her unable to stand, compounded by the fact that she uses old pieces of clothes as pads.
Halima is one of the thousands of girls who suffer period poverty in the world "the crisis made things worse when my family got displaced from Bama Local Government Area. My dad could not farm anymore, and my mom has always been a complete housewife. Now that we live in the Here host community, it is even more difficult each time of the month to cope with the severe menstrual pain, do housework, attend school and concentrate in class." Hamila explained.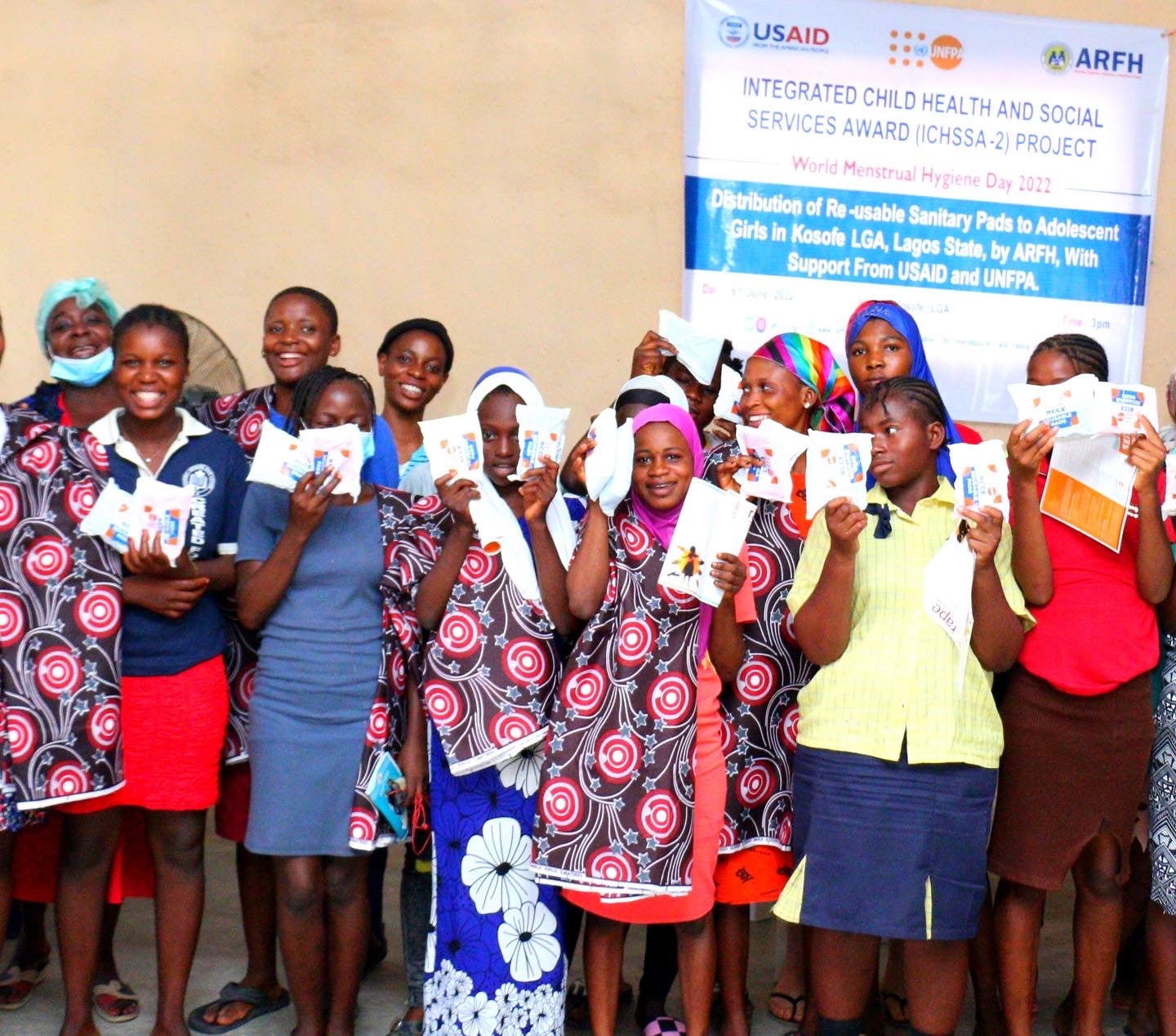 Supporting young women with dignity kits is not enough to break the stigma. For this reason, UNFPA supported Lagos State in conducting a state-wide assessment on menstrual hygiene management (MHM) across its secondary schools. The majority, around 57% of the girls, had poor knowledge about menstrual hygiene, and over 77% reported re-using their menstrual materials (these are not reusable pads). These data helped UNFPA develop Menstrual Hygiene Management Guidelines in schools, which will be the first-ever state-level guideline for MHM produced in Nigeria. We are working on ensuring a multi-sectoral approach to MHM within the school system. That will ensure young girls can still actively pursue their academic and social commitments during their menstrual period.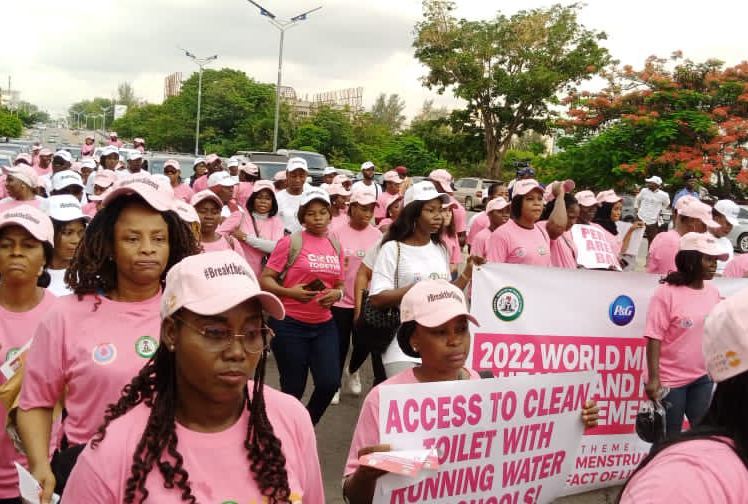 In UNFPA, we believe that talking about periods is essential to normalize and end the stigma, so we celebrate an Awareness Walk in Abuja to be vocal and loud. As the crowd marched down the city's busy streets, they advocated for the basic right to manage periods without shame or stigma, dispelled the myths around menstruation and demanded better access to sanitary products and period-friendly sanitation facilities. 
Our team in Calabar, UNFPA Youth Cohorts, facilitated sessions on "Myths and facts" about Menstrual Hygiene and carried out demonstrations on the correct use of menstrual bracelets. The event also had a very interactive Q&A session where the Youth Cohorts were able to dispel some of the myths about menstruation. At the end of the event, 30 Participants (30 F), comprising adolescent girls and young women with special needs, were reached with accurate information on menstrual hygiene and how to effectively calculate and track their menstrual cycle using the menstrual bracelet. Participants also received Sanitary Pads and Menstrual Bracelets and participated in the social media campaign to raise awareness of menstrual hygiene using the hashtags #MHDay2022 and #EndPeriodStigma.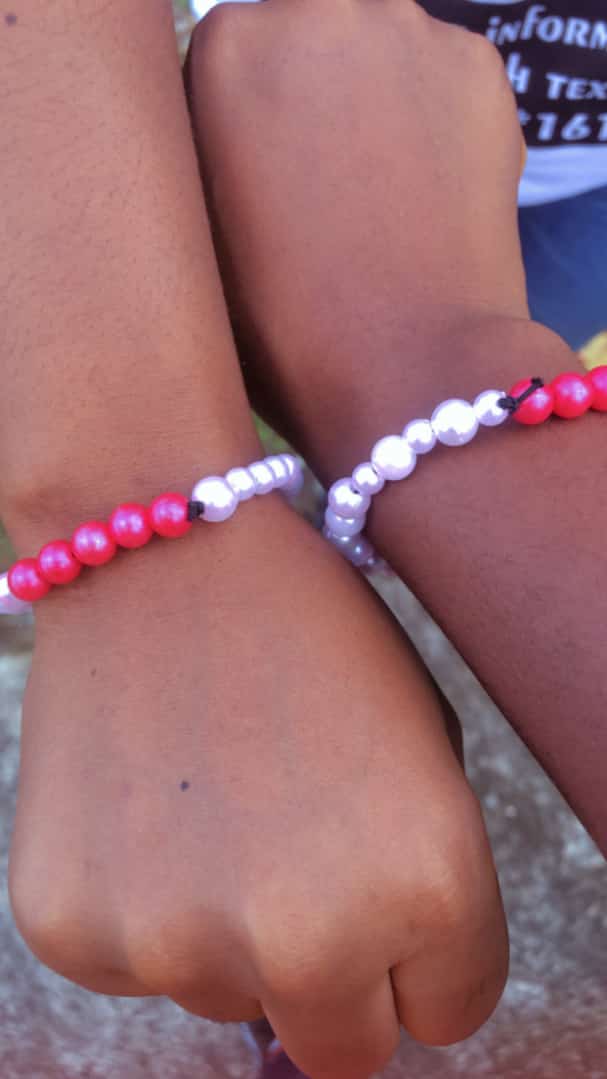 We didn't want to leave anyone behind in this issue, and UNFPA Nigeria  launched a social media picture contest to fight period taboos and stigma. The campaign was circulated among youth advocates and announced on social media (Twitter and Instagram). To participate in the contest, the users had to take a picture with the menstruation bracelet (real or digital bracelet), follow and tag UNFPA Nigeria, and use the hashtags #MHDay2022 and #EndPeriodStigma. Our office in Kaduna joined in the photo contest by mobilizing adolescents, young/not-so-young women, and men posing with the bracelets for pictures affirming there is No shame in menstruation and messages from the participants and photos were disseminated on different social media platforms by youth advocates.