You are here
Events
Main events calendar
Past Events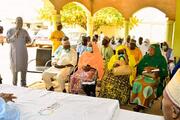 4 May 2020 - 7 May 2020
Abuja Nigeria
The update version of the COVID-19 situation analysis:
The update shows that:
1)      Nigeria recorded 2,170 cases, and 98.2% of the cases were reported in the last seven days - (25th April to 1st May 2020)
2)      Total deaths at 68, doubled in the last one week from 32 as of 24th April 2020.
3)      16 of the 34 States and FCT affected are UNFPA assisted Programme States. Only Cross River is not affected.
Details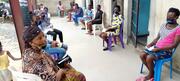 24 April 2020 - 1 September 2020
Maiduri Borno State
IMPLIMENTING PLANNED  ACTIVITIES DURING COVID19
As the numbers of those infected with the COVID-19 increases globally, a need to adhere to the World Health Organisation's (WHO) prevention and treatment guidelines made UNFPA Nigeria and its implementing partners to adopt different approaches in the implementation of planned activities.
Details
13 November 2019 - 13 November 2019
Nairobi, Kenya
Concurrent Session Zero Fistula: Nigeria and the West African Region
Thissession aimsto place obstetric istula as a priority discussion pointtowards achieving the SDGs and ICPD Programme of Action, and will also make a case for renewed investments in prevention, treatment and reintegration of istula survivors. This session is convened by the Center for Population and Reproductive Health; theInternational Society of Mediain Public Health; and Fistula Foundation Nigeria.
Details
Pages