You are here
Events
Main events calendar
Past Events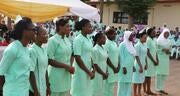 5 May 2018 - 19 August 2018
Nigeria
An estimated 111 women and girls die from complications of pregnancy and delivery everyday, as Nigeria ranks one of the highest in maternal mortality amongst developing countries. With only 2% of global population, Nigeria constitutes 14% of global maternal deaths.
Details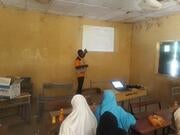 27 April 2018 - 6 May 2018
Damaturu Yobe State
In line with effecting its responsibility in providing the relevant assistance to vulnerable communities, UNFPA conducted training for counsellors and community members in Dapchi, Yobe State. The purpose of the Workshop was to have a community-centred response to allay the incident of mass abduction and subsequent return of girls in Dapchi Government Girls Secondary School through technical support to the government in introducing PFA to the community membersThe training was divided into the following sections:
·         Understanding GBV and the concept of psychological trauma
Details
19 April 2018 - 19 August 2018
Kaduna State Government House
Deputy Governor of Kaduna State, Arc. Yusuf Barnabas Bala  received  Dr.
Details
Pages