You are here
Main events calendar
Past Events

30 November 2021 - 20 December 2021
Abuja Nigeria
                                                                         UNFPA Executive Director virtual meeting with the Nigeria Country Office Staff 
UNFPA Nigeria was excited to formally welcome Executive Director Natalia Kanem, accompanied by Rachel Snow, Chief of the population and development branch, and Regional Director, Argentina Matavel to Nigeria during an all-staff meeting held 25 November 2021, day 1 of the 16 days of Activism. 
Details

11 October 2021 - 11 October 2021
Abuja Nigeria
UNFPA - Handovers Dignity Kits, and items under the UN Basket Fund Project Risk Communication and Community Engagement (RCCE) at Jahi Abuja
Details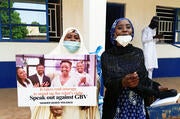 31 August 2021 - 31 August 2021
Nigeria
At the beginning of the year, the GBV Sub Sector shared a jointly developed GBV response plan, which targeted 1.3million individuals for direct GBV response services in 2020, with 45% and 34% of the target population being girls and women respectively. Following the COVID-19 crisis, the sub-sector as part of the Protection Sector and Inter Sector Working Group (ISWG) engaged in the process of developing COVID-19 response strategies and contributed towards the HRP Addendum for COVID-19.
Details
Pages